belarm

Add belarm as a friend

belarm will be notified and will have to accept this friendship request, to view updates from belarm and their ratings you must follow them.

Remove belarm as a friend



Lists
To Read
(18 items)
Book list by belarm
Last updated 8 years, 10 months ago
Favorite Authors
(2 items)
Person list by belarm
Last updated 10 years, 3 months ago
Favorite movies
(3 items)
Movie list by belarm
Last updated 12 years, 2 months ago
Recent reviews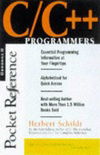 Posted : 12 years, 6 months ago on 26 July 2006 05:03 (A review of
C/C++ Programmer's Reference (Programmers pocket references)
)
This is not a bad little reference, giving prototypes and short descriptions or detailed discussions, as appropriate, for each function listed. The coverage of the STL is a nice addition. It's certainly inferior to man pages, but if you don't have those, and don't have an internet connection, this could be good to have around.

0 comments,
Reply to this entry

Posted : 12 years, 6 months ago on 26 July 2006 04:50 (A review of
Information Technology for Management: Transforming Organizations in the Digital Economy
)
This book is, succinctly, complete crap. It contains outdated and just plain incorrect information about very simple innovations in IT and communications. Being an IS book, the focus is more on marketing and business processes than the technology, but the amount of over-simplified, incomplete, and incorrect information is simply unbearable. If you must use this text book, try not to buy it!

0 comments,
Reply to this entry
Movies
Books
Favorite Authors
DVDs
Comments